The Apple iMac display can provide a beautiful surround in which to display your work. And the web is filled with some amazing iMac mockups, which make it easy to edit and drop in your own work showcase.
Whether your project relates to design or business, a high quality mockup is always useful to quickly present your work in an efficient manner. Today, we have tracked down 40+ brilliant iMac mockups, all of which provide easy manipulation and editing. These mockups are mixture of Photoshop templates, Illustrator vector files and even stock photos. Just pick the type of file that you need, and you'll be all set!
iMac Pro Desk Scene Mockup
A realistic mockup of the iMac Pro, in a stylish, minimal desk setting. It's a great way to show a website screenshot, or application interface, on a high-end computer. It's free for personal and commercial use.
iMac & MacBook Mockups Pack
This bundle of iMac and MacBook mockups includes 21 high-quality and modern mockups that are suitable for all types of designs from website headers to showcasing products and more.
iMac – 7 Photo Mockups
A set of unique iMac mockups that have been made with real life photos. The pack includes 7 different iMac mockups featuring different angles and with a gorgeous workspace environment.
Night iMac Workspace
This iMac mockup mimics a night time desktop environment. It even has a night light above the iMac to give the mockup a realistic look. You can use it to showcase your websites, product designs, feature on blog posts, and more.
30 PSD Mockup Apple Devices
This is a bundle of 30 different Apple device mockups. It includes iMac, MacBook, and iPhone mockups featuring different angles and perspectives. Each mockup comes fully-layered and in 4000 x 2662 pixel resolution.
iMockUp Super Pack
A massive bundle of Apple device mockups featuring 57 unique device renders and 22 different pre-made showcases. This is a must-have mockups bundle for graphic and web designers.
Vector Mockups Bundle Sketch & Photoshop
The vector based iMac, iPhone, and MacBook mockups in this pack come in both Photoshop and Sketch formats. The vectors are also available in both dark and light color versions as well.
Colorful iMac Mockup
Most iMac mockups are minimal and clean, but this one adds a whole extra level of fun, art, and crafty goodness to the scene. It's a great way to display a fun and friendly design in a bright setting. The desk is covered in paper, pens, and notepads. With sticky notes and craft supplies on the wall! It's bright, colourful, and inviting.
Responsive Apple Screen Mockup Devices
A set of 20 unique mockup templates featuring Apple iMac, MacBook, iPad, and iPhone. Each PSD file comes fully-layered for easy editing and in 3000 x 2000 pixel resolution.
All New Responsive Mockups
Another pack of 18 Apple device mockups that includes iMac, iPhone6, iPad Mini, MacBook Pro, MacBook Air, and much more. These mockups are specially made with a responsive design for web-based use.
Sleek Apple Product Vector Mockups
This set of vector mockups includes 3D rendered mockups for iMac, MacBook, iPad, and iPhone. They are ideal for flat design inspired websites and product showcases.
3 Real Photo iMac mockups
A set of 3 iMac mockups featuring real photo backgrounds. The mockups come with a stunning background that's most suitable for showcasing designs on projects with a feminine touch.
Woman using iMac – 12 Photo Mockups
This is a bundle of iMac mockups that features a woman working at an elegantly designed workspace. The bundle contains 12 different mockups shot in different angles.
Price: $22
Workspace Mockup Set 3
This stylish iMac workspace mockup will fit in perfectly with any of your UX and web design projects. As a bonus, the bundle also includes a mockup of the MacBook Pro.
Price: $15
iMac Mockup
An iMac mockup bundle featuring a top-view of the desk in both day and night versions. This mockup looks ideal for headers and stationery design.
Price: $6
Retina iMac Creative Desk Mockup
This mockup is a render, but looks incredibly photo-realistic. It's in the setting of a home office, with an iMac on a desk, next to speakers, mouse, and keyboard. There's a "concept-style" clock on the wall, with a simple seat in the foreground. The desk is oak coloured, with a shine that gives it a varnish-style appearance.
Flat Devices Bundle Mockups
Inspired by the flat design trend, this bundle includes mockups of iMac, MacBook, iPad, and comes with an additional flat mockup of the Safari browser.
Price: $12
Home office
A high-resolution iMac mockup photo featuring a modern home office environment.
Price: $2
Home Recording Studio Mock-Up
Working on a music-themed project? Here's a great iMac mockup you can use to showcase your product to your target audience.
Price: $19
iMac Mockup
This iMac mockup features a busy working environment.
Price: $3
iMac Office Mockup
This elegant iMac mockup featuring a minimalist office environment includes a cool color filter, which you can easily switch to try different styles.
Price: $5
iMac Photo Mockup
An iMac photo mockup featuring a night scene. It looks perfect for designing unique website headers and for presentations.
Price: $4
iMac Mockup PSD
This photorealistic iMac mockup can be easily customized to turn on or off the screen reflections.
Price: $5
iMac Mockup (bonus Poster Mockup)
An attractive and a colorful iMac mockup that also includes a mockup of a poster as a bonus.
Price: $3
Boho Style iMac PSD Mockup — vol. 1
Looking for an iMac mockup with a feminine touch? Then this mockup will definitely suit your needs.
Price: $7
Header Image Mockup
Just as the name describes, this is a mockup made especially for designing website header images. All the objects in this mockup are changeable and the 3D letters are also editable.
Price: $6
Industrial style workspace
A high-resolution mockup photo featuring an iMac in a stylish workspace.
Price: $10
Store Mock-Up Set
This mockup pack includes 7 different mockups of the iMac featuring an Apple Store environment.
Price: $6
Horizontal mockup header image
An iMac mockup photo with copy space. This mockup will look great as a header on any website.
Price: $8
Responsive Showcase Presentation
Here's a great all-in-one mockup bundle that includes mockups of the iMac, iPad, MacBook, and iPhone for showcasing the responsiveness of your designs.
Price: $10
12 Flat Responsive Mockups
All of the vector-based mockups in this bundle are fully customizable. The pack includes 12 mockups of the iMac, MacBook Pro, iPad, and iPhone.
Price: $10
Christmas Thunderbolt Display Mockup
An iMac mockup featuring a Christmas theme. Perfect for holiday-themed promotions and designs.
Price: $6
Mockup Creator (Scene Creator)
Create your own unique mockup scene with this bundle, which comes with over 100 items for customizing the scene however you like. Best for creating website hero images.
Price: $11
Simple iMac Mockup
A collection of professional premade scenes, great for your web design showcase, product, presentations, advertising and much more.
Quality iMac Mockup
Display your work in style with this well organised iMac mockup. You don't have to be a Photoshop professional to use this template.
4 PSD iMac Mockups Set
This is a set of four realistic iMac mockups, shot at a home studio with four different perspectives. Really versatile and super-minimal.
Vectorized iMac
This is a fully scalable iMac PSD mockup. I currently use a 27″ iMac for all my designing and thought it would be a great idea to create a iMac PSD design. This can be used to showcase your artwork, or promote a product or service.
iMac Perspective Mockups
This iMac perspective mockups pack contains 13 high resolution 3000 x 2000 pixel, 300 DPI PSD files (7 individual files + 6 combinations) with smart objects. You can also make your own combinations.
Clean & Neat – iMac/MacBook Mockups
A set of 15 bright and stylish iMac 21′ and Macbook Air 13′ mockups coming in Photoshop format. A perfect way to make sure your web design looks great on a user's Mac! Also it will be very useful for any presentation purposes. Just paste your image in the replaceable smart object screen and use it in your work.
1 PSD iMac Mockup
This is a realistic iMac Mockup PSD file with editable layers to easily add in your designs, or tweak the design if you'd like.
20 iMac & MacBook Screen Mockups
A collection of 20 awesome iMac & MacBook Pro screen mockups with smart objects for easy changes to your design.
iMac and iPhone Mockup
This collection of mockups is ideal for a responsive web design showcase (shown across multiple devices), or showing off a desktop app.
New iMac Mockup – 14 Poses
This collection of new iMac mockups comes with 14 fully editable files for your projects. As a bonus, it also includes a MacBook Pro, iPhone 6 and iPad.
iMac Styled Desktop Mockup
A web design computer desktop mockup styled stock image, with whimsical & vintage details. These include peonies, yellow ranunculus, pink, gold, blue, black & white accents. Features gold stapler, feather pen, vintage tea cup & saucer with macaron, bronze bunny alarm clock, pearls, lipstick, classic story books, earphones, keyboard, flower bouquet in gold vase, sand hour glass & washi tape. Wow. Is that enough vintage? It should be!
6 iMac Photo Mockups With Feminine Theme
This pack of special photo mockups features an iMac with stylish, classy and color consistent scenography. Show your web, desktop app , artwork and website template project in a real, beautiful environment
White Workspace With iMac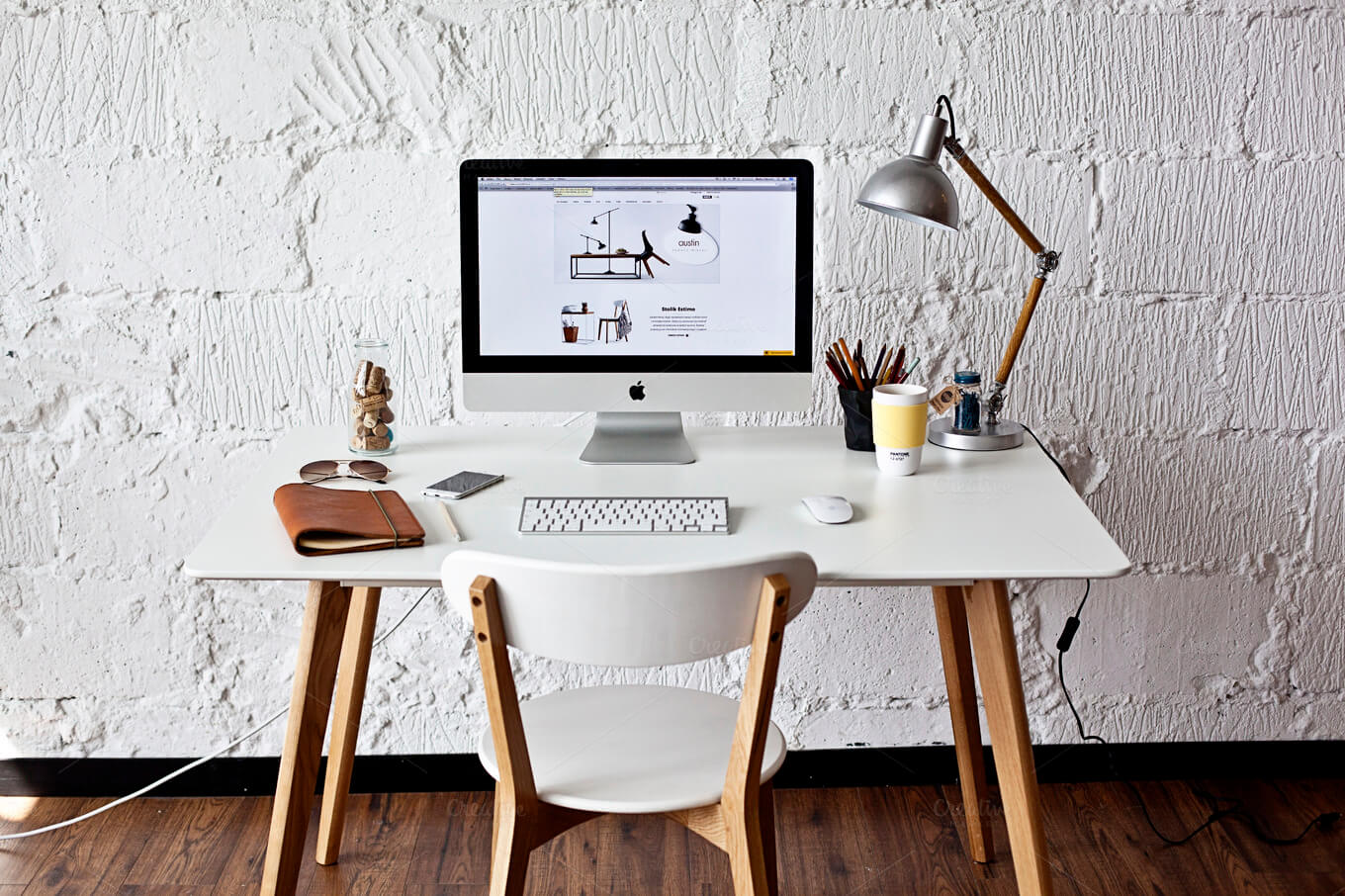 A high resolution photo (5616 x 3744 px) ideal for your blog, iMac mockup, website or to showcase your website template or WordPress theme.
High Resolution iMac Template
A great template that you could use for header, mockups, design applications or web pages, presentations, gallery presentations and more. Originally created for web designers, to preview their designs and websites in a professional and photorealistic way. Just insert your design in a smart object.
Realistic iMac Mockup
This one is simple — a PSD file with editable layers to easily add in your designs.
Stylish 5k iMac mockup
This pack contains 1 PSD iMac mockup, in super-high resolution. You could use it for header, mockups good to use for design applications or web pages, presentations, gallery presentations and more.
4 PSD Mockups iMac White Interior
This is a set of four realistic iMac mockups with four different perspectives. All PSD files come with editable layers to easily add in your designs.
Apple iMac 27″ Desktop Mockup Photo
A simple mockup for pasting your own web design into. The screen area is easily editable with smart object, so you'll have your design dropped in within seconds.
Mockup of Apple Products
This one is a mockup of Apple products in an interior space. This mockup is ideal for responsive web design showcase, apps showcase etc.
16 PSD Mockups Container
A professional and clean office environment, filled with retina devices. This one comes with multiple screen possibilities – iPad/iPhone/iMac/MacBook. Several views on devices in a bundle of 16 PSD mockups. Just insert your design in a smart object, and the image will fit in the screen. Make your presentation sparkle with perfect container 5k PSD mockups!
Workspace Mockup Set
All the main layers are converted into smart objects in this one — double-click on the selected layer in the window that opens, change the picture save back to the original image, everything is ready.
iMac Left Quarter View Mock-Up
This one is a mockup of the new iMac 27″ from Apple. The rendered mockup is turned to the left at 30° and accepts any design with a resolution of 2560×1440 as input.
iMac Mockup Top View
Perfect for use in a header graphic, or a mockup. Also good to use for design applications or web pages, presentations, gallery presentations and more.
The Project Mockup for iMac
This image is a photorealistic PSD Mockup named "The Project". Just insert your design in a smart object, and the image will fit in the screen.
Realistic Minimal iMac Set
A minimal iMac mockup pack (that also includes other Apple products). You can easily setup your customized version of this template in no time.
Workspace Mockup Set 2
A collection of eight PSD files with vintage setting showcasing iMac and other office products.
Apple Responsive Mockups
This is the last Apple mockup collection that you'll ever buy. A thoroughly complete collection that give you absolute freedom in creating your compositions. It's perfect for responsive websites or apps showcase.
5 Colorful Mockup Workplace
This set include five colorful and unique mockups for your branding or simi;ar. Very easy to change to any color of any object in scene on your taste.
Other Posts in This Series
Are you looking for a collection of devices mockups for another category? We have several other features to help you out!
100+ iPad Mockups: PSDs, Photos & Vectors
50+ Apple Watch Mockups & Graphics
100+ MacBook PSD & Vector Mockups
100+ iPhone PSD & Vector Mockups