Design is all about presentation. You might have spent hours designing a logo or a layout for your client, but in order to fully reap the rewards of your hard work, it can be incredibly helpful to present your work in the perfect manner.
This is where mockup packs come in handy, to showcase the design you've poured time and attention into in the best possible light. Today, you can take a look at our huge collection of free and premium vintage mock up sets that would allow you to showcase your work like never before.
75 Hip Logo Overlay Mockups Bundle
This is a massive bundle of two different logo overlay mockups collections.  If you're working on a logo design with a vintage hipster look, this bundle will give you 75 different ways to showcase your design.
15 Vintage Overlay Textures Mockups
Another pack of vintage logo overlay mockups featuring a realistic weathered effect. It's perfect for presenting a retro logo or a badge design.
16 Men's Apparel Mockups
Working on a hipster style T-Shirt design with a retro look? Then get this bundle of mockups to show off your design in 16 different layouts and settings.
Wood & Bone – Promotional Mockups
This is pack of mixed mockups that includes several different types of templates for showcasing logos, badges, lettering, fonts, and much more. You can also use them to design website header images as well. The bundle contains 88 mockup templates.
Barber & Cosmetics Branding Mock-Up
If you're looking for branding mockups for a barber shop, a salon, or any other cosmetics related business, this pack of mockup templates is just the thing you need. It comes with 11 PSD files containing 50 different item mockups and 4 pre-made scenes.
Kustom Kulture Rusted Photos
This is a bundle of photos you can use to create your own unique mockups. This pack comes with 11 unique photos with a vintage rusted look.
45 Retro Mockups Bundle
Yet another massive bundle full of retro and vintage mockups. This pack contains 45 mockup templates of garage doors, shop fronts, signage, vintage trains, weathered textures, and much more. You'll also get each mockup template in 3 different sizes as well.
Wine & Restaurant Mock-Ups Set
If you're working on a restaurant or wine related designs, this bundle of mockups will offer you wine bottle, wine glass, vintage signage, and several other mockup templates for showcasing your designs.
8 Aged Mockups Bundle
A set of very feminine mockups bundle for presenting your card, invitation, fonts, stationery, and many types of designs. The pack includes 8 unique mockup templates featuring real photos.
Photorealistic Logo & Insignia MockUps
This high-quality logo and insignia mockup template bundle is perfect for giving your designs a true vintage and perhaps a royal look. It comes with 6 different PSD mockups.
6 Retro Vintage Text Mock-ups
A bundle of vintage mockup templates for showcasing your text-based logo and sign designs. Each file is fully-equipped with smart layers to let you easily insert your designs into the mockup template.
Rusty Vintage Tin Sign Templates
Tin signs used to be a popular trend back in the early 1900s. This mockup template will help you give your modern logo and signage designs that same old look.
Mini Design Mockups
This is a big bundle of mini mockups with a vintage design. It includes 120 items for showcasing your logo, font, badge, and many other types of designs in a creative way.
Organic Photos Mockups
The organic and homemade style photo mockups in this bundle are perfect for presenting your logo and badge designs in a natural way. The bundle includes 14 photos.
Ultimate Vintage Scene Generator
This bundle comes with over 100 vintage elements you can use to create your own unique vintage scenes for designing your own retro and hipster mockups, website header images, backgrounds, and much more.
Logo Mock-Ups
This is a pack of modern logo mockup and badge templates featuring vintage designs. It includes a set of different mockups that are perfect for displaying your logo designs, especially on clothing items.
Styled Clipboard Mock-up
A beautiful and minimalist mockup of a clipboard that allows you to easily showcase your designs such as logos, badges, and much more.
Vintage Mock-Up Scene Generator
If you're looking to design a beautiful vintage-style scene for your next presentation, this mockup pack will come in handy. This mockup scene generator comes with over 100 items for crafting your own unique scenes for showcasing your designs.
Vintage Restaurant Mock-up
This is a brand identity mock up bundle that includes 17 items. It's specifically designed for restaurants, but it can also be used for designing graphics and scenes for a blog or a website header, letterheads, and business cards, as well.
10 Hipster Mockups Pack
Mixed with a bit of hipster style, these vintage presentation mockups are perfect for logos, product presentations, landing pages, website headers, and much more. It includes 2 scenes with 5 shots, all in editable PSD files.
Styled Stock Photo, Frame Mockup
This stylish frame mockup is for displaying your artworks, prints, and photos on your website or on an online store when selling your products. It's available as a single PSD file in 2400 x 1600 pixel resolution.
100 Signs & Facades Mockups
This massive bundle includes 50 signs mockups and 50 facades mockups, which you can use for your design presentations or even testing out your logo and signage designs before sending them to print.
Tins Packaging Mock Up
A set of photo-realistic gold, silver, and metal cans mockups for showcasing your logos, packaging, labels, and badge designs.  You can easily change their backgrounds and even change the colors as well.
12 Vintage Logo Mock-ups
A set of 12 logo mockups that will allow you to present your designs with a more aged and a classical look. Each mockup in this set has been hand-crafted to include realistic cracks, distress and age.
12 Vintage Hero Images
This collection of high-resolution vintage hero images are designed for web design projects, but they can also be used for your logo and badge design presentations as well. The pack includes 12 hero images using different objects and backgrounds and 12 unprocessed images as well.
Old Vintage Computer Display Mockup
A stunning mockup graphic of a vintage Mac computer. The graphic is fully editable and organized in layers. It's ideal for showcasing your designs and products in a unique and a fun way.
Vintage Black & White Florals
These beautiful floral designs are more suitable for your wedding stationery, blog graphics, website headers, and more. And they can also be used as mockups for presenting your designs as well. The bundle includes 4 wreaths and bouquets, 9  decorative swirls, text dividers, frames, and much more.
T-shirt Mockup
The vintage setting of these mockups makes it ideal for showcasing your old-school T-shirt designs with logos and badges. All mockups in this pack are fully layered and easily editable.
4 Loft Mockups
A set of 3d rendered vintage mockups surrounded by vintage electric lamps. Perfect for showcasing your photos, products, and to be used in your presentations.
Tabloid Size Newspaper Mockups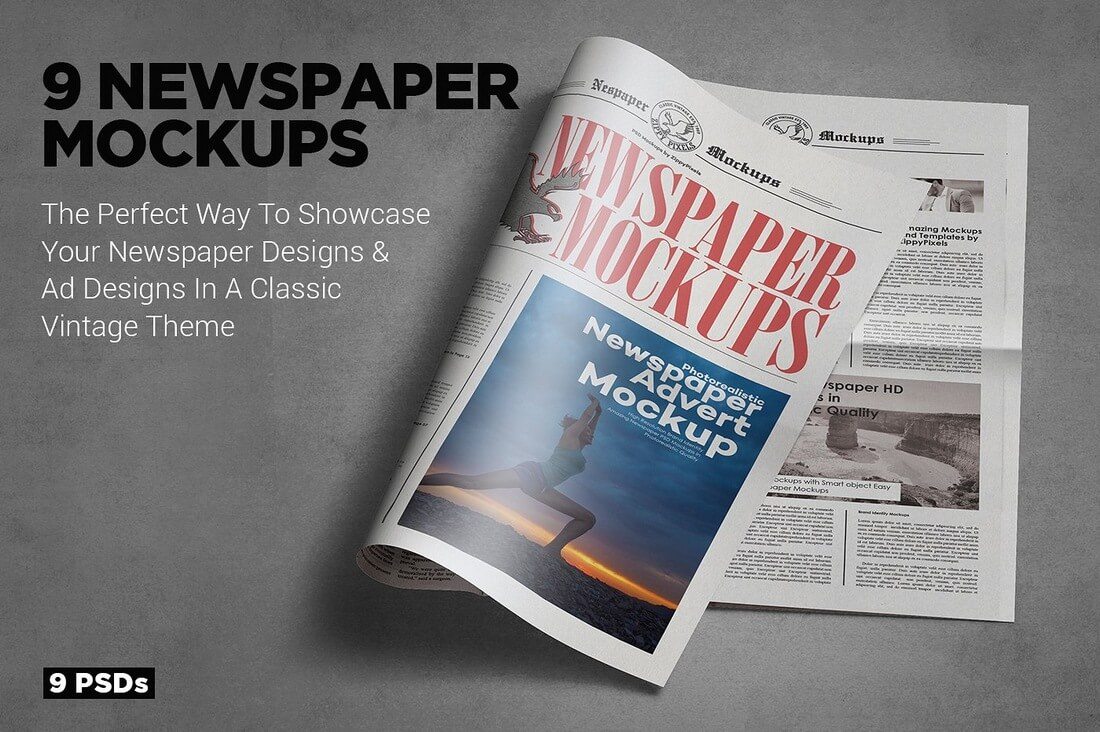 A set of 9 vintage tabloid newspaper mockups for your vintage logo designs, badges, and even for showcasing advertisement designs.
12 Vintage Poster Mockups
The stunning photo shoot poster mockups in this bundle are just what you need for your next art, sketch, illustration, or graphic presentation.
32 Photo Frames
This is a set of stunning photo frames that features background settings with vintage objects. The pack includes 32 beautiful photo frames.
110 Vintage Mockups MEGA Bundle
This is a mega bundle full of vintage mockups, including 50 art equipment mockups, 30 old photo mockups, 30 old video mockups, and more.
Sign Mock-Up Vintage Edition
Vintage Boxes Mockup PSD Freebie
7 Vintage Logo Mock Ups
Vintage Branding Survival Kit
Antique Frame Mockup Kit
Modern Office Stationary Collection
Free Mockups Volume
Stationery Mockup with Kraft Paper
10 Mockups Premium Pack
Designer Desk Mockup
iPhone Retro PSD Mockup Pack
Corporate Stationery Mockup
Free MacBook PSD Mockup
Craft Stationery Mockup
Tags and Labels Logo Mockup
Free & Premium Mockups
Culinary Branding Mockup
Coffee Stationery Mockup
Free Logo PSD Mockups
Frames Mockups
A4 Poster Mockups
Logo and Badge Mockups
Free Photoshop Book Mockups
Poster Mockup Design
Free Fabric Eco Bag Mockup
Sketchbook Mockup
A4 Bi Fold Brochure Mockup
Brochure / Magazine Mockup
Frame Poster PSD Mockup
Flyer / Poster Mockup
Vintage Branding Mockup