Do you have an idea for a great shirt or coffee mug that you know is destined to sell? Do your social media followers want to see your images or messaging on their gear?
The problem with merchandise sales isn't always coming up with an idea or design; it's picking items and dealing with inventory. SpreadShop takes a lot of that hassle and worry out of the equation, so that almost anyone can create an online merchandise storefront and start selling right away — free!
Here's a guide to SpreadShop and how you can start selling merchandise online in no time at all.
What is SpreadShop?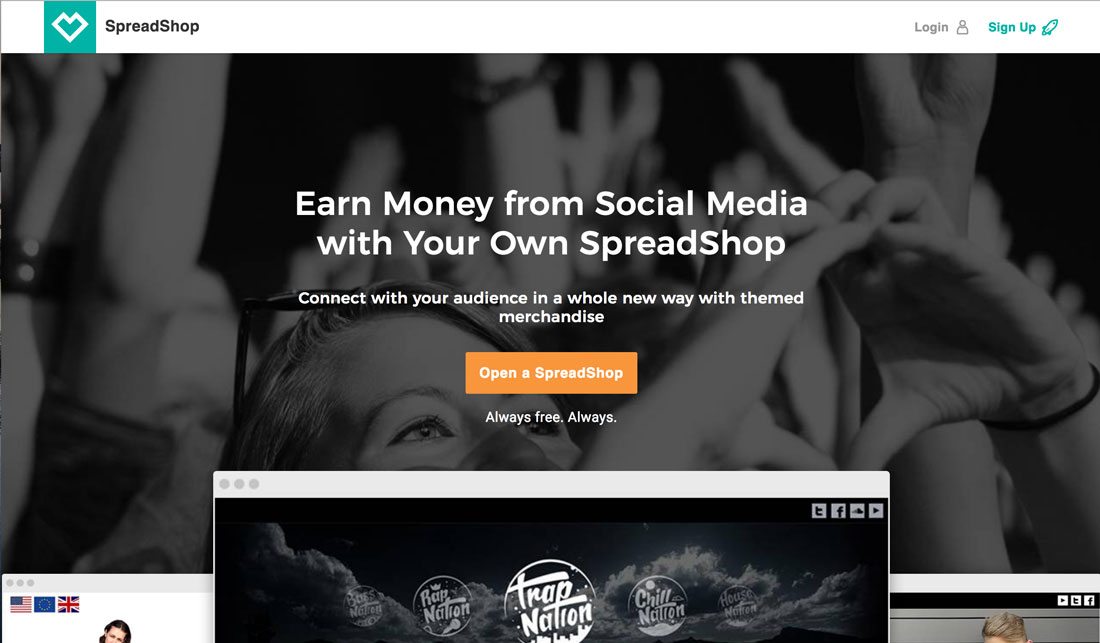 SpreadShop is an online merchandise sales portal where you can create a design for clothing, accessories and other products to match your brand and connect with users in a whole new way.
Did you know that branded clothing and gear is not just a way for loyal fans to show they love your brand, but it is also a way to connect with new users and potential customers?
SpreadShop is free online shop software that allows anyone to set up their own custom clothing shop.
The SpreadShop platform is easy to set up and most users can start selling a number of different products right away. It's a great platform for young entrepreneurs that want to start a t-shirt line and can help social media influencers sell branded merchandise to followers from YouTube, Instagram or Twitch.
With more than 200 different products to choose from, SpreadShop designers can create merchandise that fans will go crazy for. (It can help grow your social presence that much more with a more engaged fanbase.)
Designed for Social Influencers
SpreadShop is made easy so that it only takes a few clicks to get an online shop up and running. This is why social media influencers are a key user of the tool.
If you've got a funky Instagram account or thousands of dedicated followers on Twitch it might be time to give them something more with cool merch. And you can make a little money to support your social media escapades in the process.
SpreadShop's tools are free to use. You don't have to enter a credit card or pay anything. And you'll make money with your very first sale.
Add your logo, favorite saying or even pictures of your travelling capuchin monkey to shirts of almost every color or size. All you need is a simple design to upload and the SpreadShop tools will help you place the image on products to come away with perfect pieces.
If you aren't a designer, adding a logo is a good place to start. But SpreadShop is easy for designers, too. It's made for upload ready-to-go designs on to quality items that people will want to show off.
Where the tools really shine is because everything about your online shop can be fully customized to match your social media channels. Cross promote from social media to your online shop (and back) to drive sales and brand loyalty.
And for those influencers that are popular on multiple social media channels with different niche audiences, SpreadShop allows users to launch multiple shops with different storefront designs.
SpreadShop Benefits
But why SpreadShop?
SpreadShop delivers high-quality merchandise to your customers without you having to order inventory or prepay for items.
Plus, SpreadShop is a tool that supports your brand identity, helps place your items in a targeted way to your audience to maximize sales potential. And everything about your SpreadShop merch shop is customizable. You'll never lose your brand identity or create confusion for loyal fans, because everything can be designed to fit your colors, visual identity and brand persona.
Key features include:
Quick and easy shop setup; there's no complicated software or coding required
Sellers can create an unlimited number of products
Sellers have the opportunity to earn high commissions based on product types and shop prices
SpreadShop user guides are packed with tools and information to help every new seller get off the ground quickly and maximize selling potential.
The tool allows sellers to offer sales, discounts and promotions
Merchandise is printed brilliantly and buyers will love the quality
Ship worldwide without ever packing a box yourself
Easy to use shopping experience that converts users into buyers
SpreadShop includes top-notch customer service
Pricing
Here's the best part: Selling on SpreadShop doesn't cost you anything.
Unlike traditional merchandise sales, you won't have to invest in inventory or specific colors and sizes. Just upload a design, pick the merchandise options you think your fans will love and publish the shop. It's that easy.
Your sales potential is then up to you. SpreadShop will help you understand the cost per item for merchandise you plan to sell and that cost comes out before you get paid. (Which is why the only financial transaction for you is getting paid!)
SpreadShop tools also help you connect your social media brand and influence to users who want to purchase merchandise in your online shop. And everything you need to make the most of your marketing efforts is located in an easy to use dashboard with easy, step-by-step instructions.
Three Steps to Success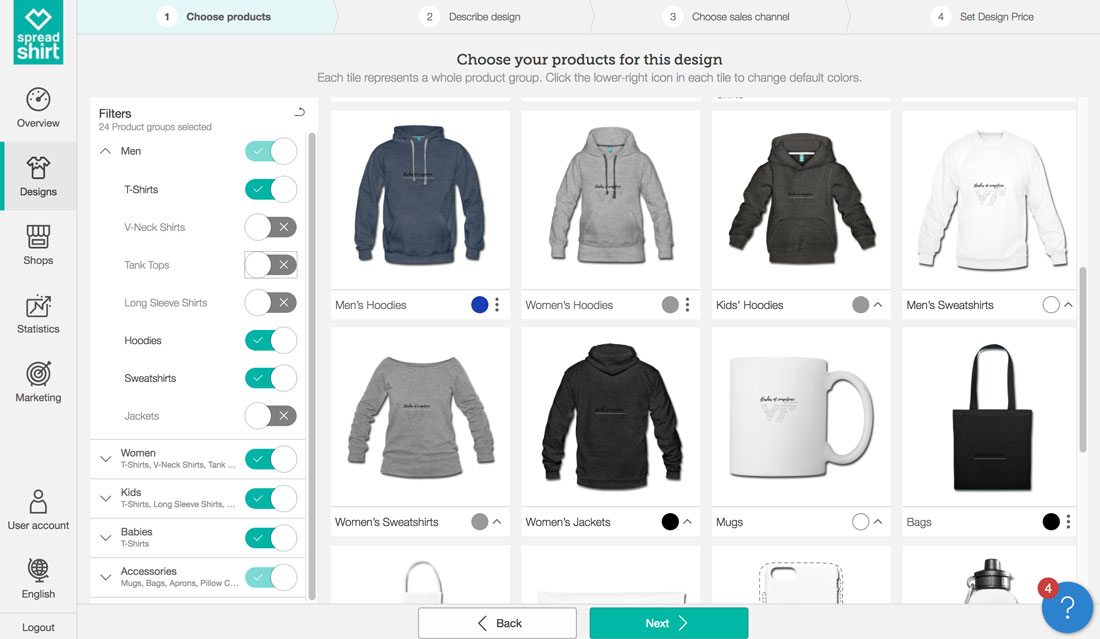 Generating sales with SpreadShop is easier than you might think. With just three easy steps, you can start earning money on merchandise linked to your brand right away.
Register for a free SpreadShop account and design your online shop.
Upload your first merchandise design
Track marketing results and sales in the dashboard and collect payment for your merchandise sales.
Conclusion
SpreadShop takes a lot of the hassle out of traditional merchandise sales and makes it easy for everyone from the young entrepreneur to solo-business owner to social media brand influencer to create and sell products online.
Merchandise sales can be a great way to better connect with a loyal fanbase and even gain a larger following. Plus, SpreadShop is free. Give it a try if you've ever dreamed of having your own t-shirt or merchandise line. Selling is quick, easy and customized just for your brand.