Trust Is Your Most Valuable Asset, So It's Time to Embrace the Most Trusted Source: Other People
Social media has reinforced the common belief that many of us have: other people like me the most.
Marketers have caught on and are looking to capitalize on that desire for the spotlight and the chance to celebrate people who are putting themselves out there for the world to see. Social posts, featured reviews, photos, and other content are now coming from customers and marketers are happily sharing these to give each person their moment in the Sun.
All of this user-generated content (UGC) is being touted as the next big thing in content marketing, and we think it's particularly useful for e-commerce brands. Your e-commerce shop relies heavily on user reviews, word of mouth, positive shares, and social buzz, which is UGC in a nutshell.
Your fans and followers are already creating and consuming social content that may include your products and brand, so finding a way to promote and own this content seems like a natural next step.
However, many e-commerce stores are wondering if they should focus on UGC, why it should take precedent over other marketing, if it will take up too much time, or if it's going to be too hard. We'll dive into the big themes there and show where UGC can benefit and why it is typically worth the investment.
But, if you go no further than this line, here's the big takeaway: UGC celebrates the people who matter most for your business, and it does so in a way that they trust, enjoy, and want to share, all while you get a reputation boost.
UGC Creates Relationships
Providing or requesting user-generated content is a simple way for a brand to have a conversation with their customers. UGC near products delivers relatable information that your shoppers can use — such as if the sizing chart you provide lines up with reality — and often addresses these questions that only someone with product experience can answer.
You're also inviting a genuine conversation and relationship, where you're not hiding information or the "bad" side of things, but instead allowing people to express themselves. The relationship that you're fostering isn't just between you and your customers; it's also between past and future customers. In essence, you're laying the foundation for a community that is based solely on shopping at your e-commerce store.
Reviews or UGC that's part of a larger marketing campaign also increase existing customer retention and create a feeling of appreciation when you actively seek out the content.
Everything else in this post builds on the fact that you're fostering a relationship with current and new customers through UGC. Create this dialog automatically be including options to leave feedback and reviews, making it easy to post from their smartphone, and by automating the process to deliver thank-you's, from notes to coupons and more.
Build out Free and Honest Customer Service
Give your prospects a chance to hear from customers and you may even get a free bit of customer service because users don't need to reach out to your help department for answers. You can quickly see this in action on just about any Amazon product page.
Customers can turn to each other to see what your products look like in reality, not just their "glamor shots" version that's on your sales page. They also show what it looks like to use your product in realistic situations.
Visitors to your e-commerce site are looking for real information, including answers to a wide range of questions that they want answered from others, like these five:
Are there tricks to getting this locket to clasp?
What does the cerulean blue actually look like? What does it pair well with?
Will this bath bomb stain my tub or my skin?
Do these energy bars taste like chalk?
Has anyone left these lights outside in the rain? Did they still work?
Your brand can answer all of these questions, but there's a big reason potential customers want to hear from your existing customers.
Consumers Trust Each Other More Than They Trust You
BrightLocal's Local Consumer Review Survey for 2016 says that 84% of people trust online reviews as much as they trust a recommendation from someone they know, and 74% of people say positive reviews make them trust your business even more.
Reviews that go past just a star rating engage and they present your business in a way that's relevant to your average consumer. They express the ease or frustrations of shipping, how your product lasted, the good deals, and the things to avoid.
And all of this is user-generated content.
Every review is a goldmine for your marketing, even the bad ones. Here are a few ways you can use reviews to boost your advertising and overall branding:
Direct Proof. Quote reviews in your search ads.
Simple Visuals. Screenshot reviews for advertising and messaging on social media.
Brand Ambassadors. Contact the person behind a bad review and if you can solve their problem, turn the entire process into a case study on your customer service.
It's also worth noting that Google star ratings can improve your SEO efforts when you work with its partners. The general consensus is that you'll want to go for at least 30 reviews over the past year and you get a further boost when those stars are an average rating of 3.5 or higher.
If you don't have that level of engagement right now, ask.
That same BrightLocal study found that about 70% of your customers will write a review of your business when you ask them to write one.
You Can Keep Up with Trends Easily
The "unboxing" trend is one of our favorites not just because we're really into packaging, but also because it's a completely user-generated experience that delivers excitement about a product. While there are some areas that do best for unboxing — the Ryan Toy Review channel, for example, has more than 6.7 million subscribers and 10.64 billion views — any product that arrives in any type of packaging is fair game.
You'd be surprised how many beer unboxing videos there are. And the other surprising thing is how long the unboxing trend has sustained interest.

Google Trends data for unboxing searches show continued interest in a wide range of countries, with Sri Lanka and Pakistan leading the charge, but still plenty of interest in the U.S., UK, Canada, UAE, and more.
It Allows You to Stay Fresh Without Fresh Spend
Head over to Southern Comfort's homepage, and you'll find a variety of drinks you can make with its liquors. It's simple to scroll through, and you can find an option that looks good based on your drink preferences. Scrolling takes a few seconds and showcases how great of a mixer the brand can be.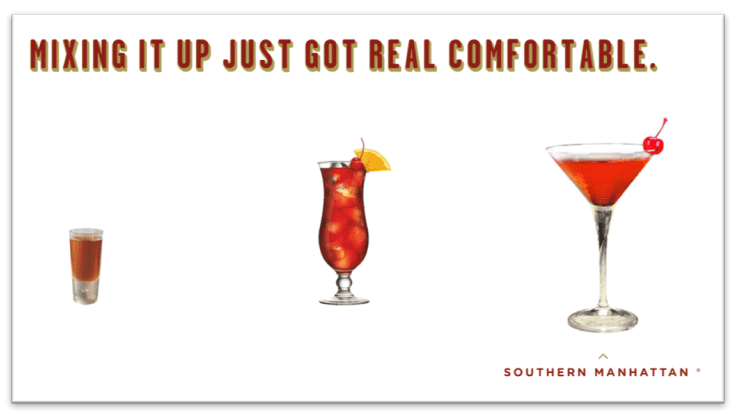 Those drinks came from a 2015 campaign where existing fans and bartenders created a range of drinks that SoCo could then brand and share. That old campaign initially ran with an interactive map of the U.S. where users could click and find drinks that were created by people in their neighborhood or spots known for great parties like Memphis and New Orleans.
Now, the map hasn't survived, but the drink recipes have. The selection of UGC was so popular that the SoCo homepage even has a top navigation option that gets you right to the recipes. It's a place of prominence because your only options are About, Products, Recipes, and Contact.
A little bit of work from two years ago has created a long-lasting presence that drives traffic, and all the brand did was turn to its fans for a little help.
Your UGC can be a mix of timely and evergreen content when you first support its creation. There are countless brands who ask fans to share photos of them with products or using a service on social media. Photos that use a brand-specific filter, overlay, or are submitted to a property you own can be kept and used as long and as often as you want.
Other tactics like regramming will need attribution at least — best-case is asking for permission — and can help you leverage someone else's fan base or find a new co-marketing partner to expand your reach.
People Buy From Brands They Follow on Social Media
A Sprout Social report on Q3, 2016 found that 75% of social media users have bought something they saw on social, and 57% are more likely to buy from a brand they follow. People want to be engaged and interact with your brand on social media — 86% said so explicitly.
The study is a good read about the power of social and one really important breakdown comes from when people were asked how many times they need to see something on social media before they make a purchase:
1% said just 1 time
7% fell in the 2 to 4 range
5% need to see something 5 to 8 times
7% want to see something at least 9 times
To capture roughly 85% of the market you not only have to create multiple messages for each product, but you must make sure your target demographic sees those images or content multiple times. If you're not squarely on their radar, it means spending a fair amount on promoted tweets, Facebook ads, and more.
If your market is spread across multiple social channels, the spend grows and may get unruly, especially if your brand is small and growing.
UGC campaigns represent a direct path to securing content across all of the channels where your existing audience plays. Whether you ask for help, create a fun game, give out prizes, or create another incentive program, the more content your users are generating, the more likely potential customers are to see the number of touches they need to make that purchase.
It's Full of Amazing Data If Done Right
Ownership is a big question mark for most user-generate content. It's likely that 99% of this content you've seen is tied to a brand, but not owned by it. The real owner of most content is the social network where it's posted.
The way to get around this is to have people send you their content directly and then allow you to post it on their behalf. This is one reason voting for the best photo is a popular tactic — the other reason is that it limits the ability of outside groups to hijack your efforts with unrelated or offensive content.
Getting people to submit content on your site or otherwise provide it to you is important and should definitely be part of your long-term goal. So, you're probably asking "why" right about now.
Metadata is the beautiful answer. Ultimately, you want the ability to monetize UGC across multiple verticals or angles. Metadata allows you to do this on a different level than simply owning evergreen content.
Let's say you're working with photos. The metadata in that photo will capture a wide range of information, especially if it is shot on a smartphone. You'll get the exact location of the photo, time it was shot, data on the app being used, information on the phone itself, and, sometimes, account details based on what's being used.
Pair all of that with the context that photos give you — who is in the picture, what did the user write about it, what is the nature of the contest you're running or ask you made — and you can build out a decent little profile on an individual. Spread this awareness out across hundreds of photos, and you're able to refine much of your persona data.
People Love UGC-Based Ads
Consumers also respond extremely well to ads that are based on user-generated content or feature them in some part, such as the review under a product photo being from a regular person.
Studies have found that ads containing UGC can achieve up to four-times higher click-through rates and a decrease in both cost-per-click and cost-per-acquisition of 50%. There's no definitive research on exactly why these ads are performing well, but most brands and researchers believe that it is because UGC helps avoid the automatic blinders many people have for online ads.
The look and feel of user-generated content tends to feel like the social media service the user is already on, so they won't look like ads or sponsored posts. They look like real people enjoying your product and the social network because they are exactly that.
Let your brand shine in a way that lets your customers shine, whether that's with something silly or even a sweeping landscape that doesn't directly share an image of your product but mentions it as a reason the person could get away.
It's About the People Who Matter
A business is nothing without its customers, and user-generated content has a better chance to celebrate those customers than just about anything else.
There's no major barrier to any customer taking part and it opens up the door for them expressing themselves about how they like you — or gives you an opportunity to address issues if they don't like you.
Like we mentioned earlier on, this is all about building a relationship. Trying UGC to see what works and what doesn't will help you learn more about your customers, especially concerning how they like to communicate. Instead of A/B testing your ads, you're building a wealth of information and potentially increasing engagement as you do it.
Plus, you get a few big benefits:
Cost Savings. UGC tends be cheaper than most other campaigns because a large part of the creative work is free.
Easy Metrics. The proliferation of social media tools and the simple hashtag make it easy to track UGC and determine its value.
Identify Your Best Bets. You learn which of your fans have the biggest reaches and who are willing to be advocates for you.
Earn Trust. Your brand gets a boost in credibility and authenticity.
Free Inspiration. You just might find a new product idea within all the buzz about what you offer. Lay's 2014 crowdsourcing for a new flavor not only gave it product ideas but boosted the brand's overall perception
The world is heading toward user-generated content because most like their 15 seconds of social media fame and enjoy being recognized and rewarded, especially if it's just for liking what a company does.
Give your fans, followers, and future customers a little bit of joy by injecting your next campaign with some UGC flavor. Celebrate what makes them who they are with a campaign that asks them to celebrate you for who you are.