Follow these SEO trends for better rankings in 2017
SEO is a very volatile industry because of the many changes that take place in the Google algorithm within a period. The algorithm set in place this month may not be the same the next. It is an always evolving algorithm that encourages SEO specialists to stay on their toes and keep abreast with updates.
Now we are well into 2017, it has become more important for specialists to look out for trends that can affect search rankings for their keywords this year.
Optimize for Rich Answers
Although aiming for the top positions in Google search for your target keywords is still important, it's now time to optimize for other Rich Answers too. These are results that appear towards the top organic search results.
According to Stone Temple Consulting, rich answers appear on 19.45% of Google search results out of the 850,000 keyword queries used to trigger these.
The percentage may not be as high at the moment – most of the rich answers appear on search queries for song lyrics. However, there is good cause to believe that its number will only increase in the future. Since Google has made its intention of providing value to its users clear, rich answers provide the most relevant information based on the search query.
How to rank for rich answers: Northcutt Consulting Group has broken down the most relevant factors for ranking on rich answers.
The first point is important. Optimizing for rich answers requires you to optimizing for your target keyword as well. Getting your page to rank on the first page of search engines will increase your chances of getting into the rich answers box.
The post at Northcutt is not the definitive way to rank for the rich answer box since we are dealing with Google algorithm here, after all. Its algorithm can never be reduced to an exact science consider of how unstable it is. However, the post should give you a good idea of how you can increase your chances of getting your page on top the top of search results.
Review Google's other featured content
Keep an eye on the Mozcast Google Feature review for other types of content that features within Google results. Rich Answers are referenced here as 'featured snippets'. A similar feature is 'Related questions', showing how our articles should try to cover these questions. Images and videos are other better known ways of gaining cut-through in the SERPs for some search terms – check which are important for your industry.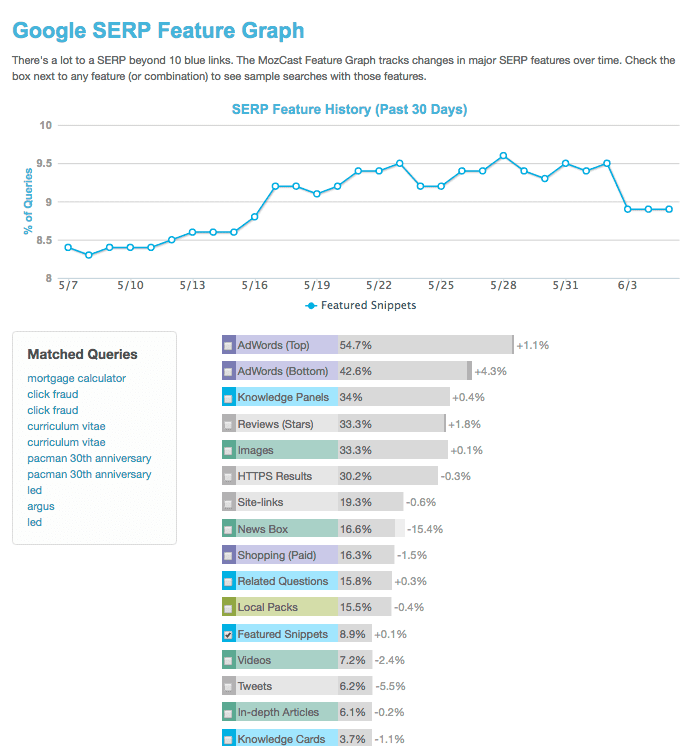 Improve user engagement
Ever since, marketers have always speculated user engagement as a possible ranking factor. This covers the average time on site, bounce rate, pogo sticking, and others.
For conversion, it is a proven factor that determines the effectiveness of page elements that contribute to the chances of visitors committing to your call to action.
However, what makes this factors difficult to measure in search engines is the lack of data supporting it.
User engagement is too indirect an influence on search rankings. Nonetheless, it is something that all website owners need to optimize if they are serious about getting more out of their SEO efforts.
"User engagement is just as important as any other on-site element in this day and age," says Matt Banner of OnBlastBlog.com. "If a visitor enjoys your website, they'll stay on your site longer, visit more pages, help contribute to a lower bounce rate for your site overall, and most likely become a returning visitor.
"All of these positive elements factored together combine for a type of website that Google wants to rank highly in the search engines. If the user finds the website beneficial, you can bet Google will as well."
How to rank with the help of user engagement: To help improve your site performance, in the long run, using user engagement as a factor, you may need to use tools to gain insight on how much interaction your site pages is getting from visitors.
Heatmapping quickly comes to mind when thinking of user engagement. The idea here is that the more clicks a page accumulates from its links, the more interaction it has with users.
Tools like SumoMe Heat Maps and CrazyEgg are great ways to break down the number of clicks made by users on your tracked site pages. From here, you can see which links are clicked the most and least. You can then optimize your site by improving your CTA links and buttons based on the accumulated data.
To analyze visitor engagement with your site pages, the SumoMe Content Analytics is an extremely helpful tool in looking how many of your site visitors scroll down until the very end of the page. From the data, you can also find out which part of your page where 50% of your visitors leave. Determine which elements of your site pages serve as obstacles that prevent visitors from scrolling down your page and optimize your site as you see fit.
Mobile App Optimization
The mobile market is big. So big, in fact, that Google is still figuring out how to provide mobile users with a better search experience.
The so-called 'Mobilegeddon' or more accurately Google's Mobile-friendly update is a step towards this direction, as site owners are encouraged to develop mobile or responsive designs to increase the site's loading speed on mobile devices. A faster loading site means more chances to retain visitors.
While there is also interest in spending on mobile ads as the figures from eMarketer show, Google will soon take a more crucial role in delivering content to mobile users, starting with app store optimization.
"ASO (App Store Optimization) will be the next gen SEO in 2016," says Rob Lons of performance SEO services RankPay. "If you look at the rise of mobile use and how much paid ad dollars are being spent each year, you can see the huge demand and rush to reach people on their mobile devices."
More importantly, the App Indexing is the latest development in search results that can make an impact in how your site pages will rank for your target keywords.
Originally, apps are indexed on App Store and Google Play, not on Google search. This made it much more complicated for Google to streamline its search capabilities – marketers will have to optimize on both app stores instead of just on Google organic.
Through App Index, apps are now indexed on Google search. The search ranking of apps falls under the App Pack or Deep Link category.
Below is a comparison of app rankings on mobile search. The image is taken from this extensive article about App Indexing at Search Engine Land.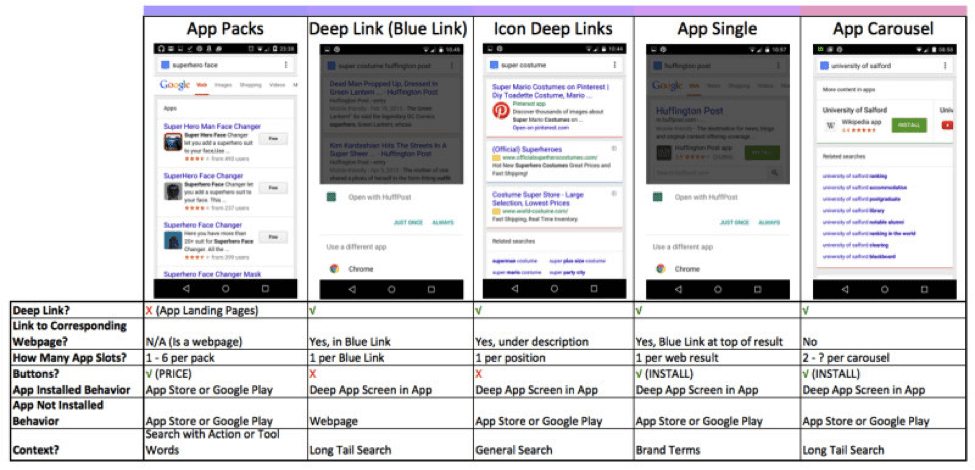 App Indexing brings in millions of additional search results for search queries on Google mobile search. This means that webpages ranking for their target keyword will have to fight of million of app pages that are optimized for their keyword as well. As if the competition is not stiff enough!
How to rank for mobile search results after App Indexing: Instead of fending off app results for your target keyword, why not consider developing an app for your business?
If you do not have an app for your site yet, consider building one to take advantage of the benefits App Indexing brings, in particular, its deep links.
Choosing the best mobile app development services is just half the battle. The other half involves developing a solid foundation for your mobile app and the goal you wish to achieve in developing it. Identifying both should provide you a more strategic approach with your mobile app in line with meeting your online goals.
Once you have a mobile app in place, you can begin implementing the steps on how to get your deep app screen indexed on search results by referring to this straightforward documentation from Google. The process can be arduous for non-developers, so you may want to ask for help from an expert regarding this.
Google's new search quality guidelines
Google released their latest 160-page search quality guidelines. The last previous published was the abridged version two years ago that was a reaction to the leaked versions from 2008, 2011, and 2012 (notwithstanding the 2014 version) for the purpose of transparency.
As expected, the published document is far from the finished product.
"This is not the final version of our rater guidelines," says Google Senior Program Manager and Search Growth & Analysis Mimi Underwood in this post. " The guidelines will continue to evolve as search, and how people use it, changes. We won't be updating the public document with every change, but we will try to publish big changes to the guidelines periodically."
You can download your copy of the search quality guidelines from the link above.
Below are some key takeaways from the guidelines:
High-quality standards are set on Your Money or Your Life (YMYL) pages – These pages include shopping transaction pages, financial information pages, medical information pages, legal information pages, and similar sites. The reason for the placing high-quality standards on these pages is how these can affect "the future happiness, health, or wealth of users." Low-quality YMYL pages can negatively impact one's happiness and health, so it is important to build useful pages under this umbrella term.
The value placed on Expertise/Authoritativeness/Trustworthiness (E-A-T) –high-quality content must come from E-A-T sources. E-A-T is built by acquiring accreditation if necessary. For instance, medical information found online must come from accredited medical persons or organizations. Corollary, first-hand experience counts as a form of expertise. For example, a user sharing how he survived cancer is a form of expertise.
Needs Met guidelines cater to mobile usability – Web pages are gauged by how they are optimized for mobile viewing and the satisfaction they provide to users about the search query. The guidelines are loosely divided into five ratings (from Fully Meets to Fails to Meet) – a website can fall between the assigned ratings if needed be.
What to make out of these quality guidelines: All signs point to improving the mobile usability of your site (as already mentioned above), as well as establishing yourself as an influence within your niche. By building your expertise and knowledge in your industry, you can establish your authority as a subject matter expert, thus earning the trust of your audience.
You can start by launching an influencer marketing campaign to establish your online visibility. From there, you can slowly build yourself as an authority based on different factors such as your site's Domain Authority, social proof (testimonials from customers and social media shares), and blog comments, among other factors.
Website Design